COSL Canada has expert technical support in all areas of discussion. COSL prides itself in our development ability, maintenance, preparation, testing and strong research to deliver the best possible output of our services.
Integrated services
The IES/turnkey drilling involves well site survey, drilling, cementing, mud logging, drilling fluids, electric logging, directional drilling, well completion, oil testing and logistic support etc. that cover the oilfield exploration, development and production areas. We are able to accomplish hi-tech integrated drilling and logging services for horizontal well and slim hole horizontal well.
Remote technical support
COSL Canada has expert remote technical support. We can provide quick solutions and avoid future problems through our informed decisions to bring you the best possible service.
We have a number of onsite interpretation engineers and experts engaged in reservoir performance analysis, production prediction, reservoir evaluation, integrated geological study and cement bond evaluation etc., as well as advanced data processing and interpretation software and hardware equipments.
Wireline Logging Services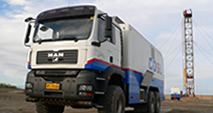 Oil Tool Services
Include on-site NDT service, drilling tools NDT, downhole tools disassembling and assembling; OCTG thread processing, BOP repair and installation, tubing cleaning and pressure test, oil tolls renting etc.