COSL Canada continuously increased investment in employees training. We held multi-leveled technical competitions for different duties to establish a platform for our employee's comprehensive technical improvement. In addition, through targeted pre-operation training in overseas, dispatching after studying abroad, and establishing mixed team with local and foreign staff, the Company continuously enhanced the quality of overseas team.
Significant performance in overseas team construction
In 2013, we organized sectional training courses. 20 and 100 employees attended elementary and intermediate English trainings respectively. 34 attended the targeted pre-dispatch training. At the same time, excellent front-line staff and experts were selected to study abroad, thus improving the level of technical management. At present, among those attended international talent training, 130 people are working overseas, accounting for 10% of the trained employees.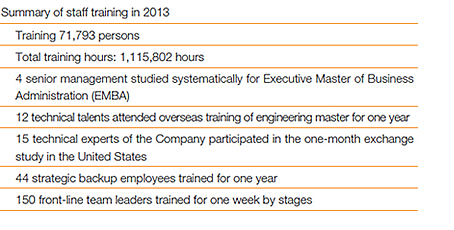 Demonstrate the talents in skill competitions
We organized crane operator match and well cementing match in the 5th professional skills competition of CNOOC, in 2013, and won 2 gold, 4 silver and 9 bronze medals in crane operator, well cementing and electric maintenance matches. 5 employees were honoured as "professional technician in centrally-controlled state-owned enterprise".
Furthermore, we also organized skill competitions for logging workers and offshore seismic workers, which enhanced the skill of staff, improved their ability in performing their roles, as well as boosted the level of engagement in developing their talents and contributing to their job duties.
Safety Education & Training
Promotion of Safety Culture
We actively organized the activity of "safety month" to promote safety via various means such as exhibition board, quiz and warning videos, with an aim to spread safety knowledge and culture.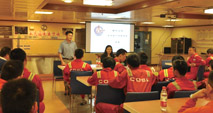 Safety Production Training
"Inadequate training is the largest potential safety hazard" – We adhered to such philosophy in 2013 and adopted the system of "on board with license" and "pre-job training" to enhance our quality of safety training. All units formulated their safety trainings for all staff and provided training in line with actual demand. In 2013, 126,249 participants were trained across different units.